The Online Access delivery option provides an easy way to ticket events with online or streaming content.
How to Offer Online Access Delivery
To enable this feature, you'll just need to indicate that your event is taking place online. When creating your event, use the Event Type drop-down menu on the Location tab.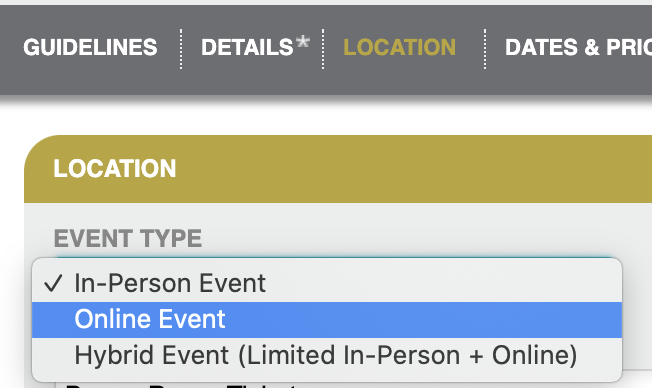 Online Event Access Instructions
Share the access link directly or let your attendees know when and how they will receive it.
Delivery Options
If the event is exclusively online, Online Access should be the only delivery method.
If the event is a Hybrid and offers in-person attendance, be sure to include an additional delivery option.
Note: If your event has an essential questionnaire, assigned seating, variable or donation pricing, Online Access may not be a good match.
Want to Update Your Active Event?
No problem, you can update your event and delivery methods for attendees moving forward.
Log in to your Brown Paper Tickets account
From the Account menu, select Manage Your Events
Click GO! next to the event title
Choose the Location tab from the dark gray bar
Under Event Type, select Online Event or Hybrid Event
Fill in the Online Event Access Instructions
Update the delivery methods on your existing event dates
Note: These changes will not affect past orders.