Need to send attendees a private event invitation or link ahead of time? You're in the right place. 
If you're hosting an online webinar, class, or workshop, you'll need to send attendees a link so they can join the event. The simplest way is to add the link or instructions to your Notes for Attendees, so buyers receive it automatically after purchase. Notes for Attendees are displayed to the customer on their order confirmation page and confirmation email after checkout.
If you plan to share the access link closer to the event, be sure to let them know when it will be coming. We recommend sending it out via our Attendee Notification tool at least 24 hours in advance. 
Notification Tool Delivery Warning
Attendees have a tendency to "unsubscribe" from notification emails when they don't contain crucial event information. If you plan to send other messages to buyers prior to sending the access link, we suggest including a reminder that the link will be sent out via the same email notification system. 
How to Share Instructions with Buyers 
Generate the event invitation link on your platform of choice
Log in to your Brown Paper Tickets account
From the Account menu, select Manage Your Events
Click GO! next to the event title
Choose the Settings tab from the dark gray bar
Scroll to Notes for Attendees
Add/Update the message in the field
Click Save Change

Message Examples:
This event will be conducted online via Zoom. Registrants will participate on their computer, iPad, or smartphone device. A link to this webinar will be sent to all registrants the day before the event. Please contact us at 555-555-5555 or you@youremail.com if you have questions or need assistance.
We look forward to seeing you on the 8th at 7 PM Pacific. Please join us using the Zoom link below. 
Ticket Buyer View
Confirmation Page: The event invitation link will be displayed on the confirmation page once the buyer's order is complete.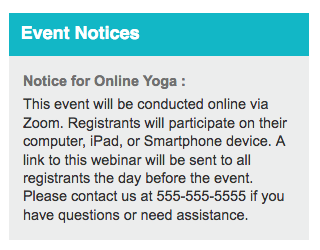 Confirmation Email: The event invitation link will also be displayed in the buyer's confirmation email. 

Event Description 
Make it easy for your attendees to join you. Adding additional tips or instructions to your event description may prevent buyer frustration down the road.
Important details to include: 
Which virtual platform the event will be streaming on. 
Do viewers need to download anything in advance? 
When and how attendees will be receiving their invites. 
Any equipment participants will need (headphones, yoga mat, sketch pad).
If there will be live or interactive audience participation.
 Pro Tip
It's helpful to re-send the invitation link on the day of the event for easy access.